Something's Cooking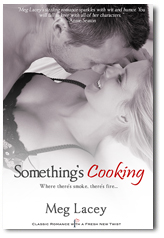 Tess Banyon has turned her brilliant recipe and crafting ideas into a multimedia empire. Landing her own TV show throws her into a panic. If she's not careful, the public will discover she isn't the domestic diva everyone thinks she is.
Investigative reporter Josh Faraday smells something smoking in Tess's world. His goal to expose the real Tess goes into overdrive when she lands a television show deal. He secures an assignment to shadow her, reporting on her program, but what he's really doing is getting dirt for his exposé. Things get even stickier when Tess's family plays matchmaker. There's no shortage of fire between them, and after an impulsive night together, Josh discovers a story he never expected--or bargained for.
August 12, 2013
Back Cover Copy:
Something's cookin in more than the kitchen…
Tess Banyon is a 'Martha Stewart' type of homemaker-guru-marketing-entrepreneur-extraordinaire. Investigative journalist, Josh Farraday's is determined to convince the women of America that Tess is too good to be true.
He's right.
Tess is a marvelous marketer with tons of ideas, but she can't really cook and has been known to attach herself to a grapevine wreath with her glue gun. Now she's doing her own TV show, and Josh has been assigned to do a behind-the-scenes story.
Their first meeting is a disaster, but Tess' mom, Clarie, and sister, Marla, decide that tough, uncompromising, sexy Josh is the perfect man for their uptight, workaholic, adorable Tess. The only problem is convincing both of them. Tess and Josh are manipulated into spending all of their time together. That's when all hell breaks lose.
Although Tess and Josh loathe each other on the surface, underneath, their passion is threatening to bubble over.
August 12, 2013
ASIN: B00DXJLKB8

---
The Sparrow and the Vixens Three
The Tales of the Sparrow, Book 2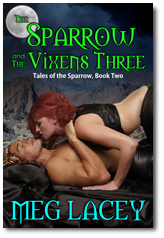 The Sparrow and The Hawk are back!
When the mystical, cursed necklace called the Carmaletta Choker showed up in San Francisco, the NAS (Normal, Abnormal and Strange) Agency paired their top agent, Jillie Hart, code name The Sparrow, with mysterious agent and shapeshifter Griff Ryland, known as The Hawk. Jillie and Griff posed as documentary makers in an effort to retrieve the choker, but they failed in their mission.
Now its curse is more powerful than ever, and the universe hovers on the brink of collapse. While most of the world remains unaware, in Hollywood, a new production company is casting a film about two people seeking a necklace with mystical powers—a tale too reminiscent of the real life Carmaletta Choker. Jillie and Griff are determined to stay close to the action, and they once again pair up under the guise of shooting a documentary—this one on the making of the new film.
They are unaware that Declan, the sinister shapeshifter who had previously applied his black powers to locating the necklace, and Gailan, an ancient earth mother who dwells in The Garden of the Gods, have teamed up with three kitsune (Japanese werefoxes) who are masquerading as the stunningly seductive vixens Delphie, Delilah, and Diana. The kitsune must lure Jillie and Griff into their trap and seduce Griff into joining the side of evil and helping them recover the necklace.
Conflicted by her mixed feelings of love, desire and anger toward Griff's seeming personal and professional betrayal, Jillie has no choice . . . to save the world, The Sparrow must first save The Hawk. But how can she compete against the power of three magically enchanting kitsune?
November 2013

---
The Sparrow and the Hawk
The Tales of the Sparrow, Book 1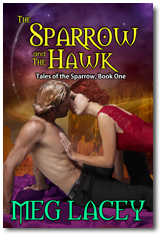 Jillie Harte, code name the Sparrow, a documentary film maker is an agent for the NAS (Normal, Abnormal, Strange) Agency. Her assignment—find The Carmaletta Choker before it falls into the wrong hands and destroys the world. Franklin Doherty and associates are suspected of having the choker, and they are definitely the wrong hands! To get close to Franklin, Jillie is producing a film on "Decoration, Fashion and Accessories Throughout History," featuring his antique collection. Her assignment is complicated by Griff Ryland, her new, hot cameraman, who is also looking for the necklace. Griff is an enigma. Is he friend or foe? And why is she so distracted by his "pure sex on a stick" appeal?
Like the Sparrow, Griff, aka the Hawk, needs to retrieve the choker. It disappeared from his dimension years before, and his job is to bring it back. Since he can shapeshift into a hawk or a mountain lion at a moment's notice, Griff feels certain of success. But he doesn't bargain for a sassy, sexy redhead—and for his overwhelming urge to settle their differences in bed.
Now Griff and Jillie must not only overcome the deadly dark forces who want the choker, but they must also face their developing relationship.
And they thought saving the world from evil and chaos was hard!!!!
September 2012
ISBN: 978-1-61026-097-8
Read an Excerpt | View Video Trailer

Reviews of The Sparrow and the Hawk:
Biblioteca
Sara's Organized Chaos
Genre Go Round Reviews
---
Million Dollar Mistake
Million Dollar Men, Book 1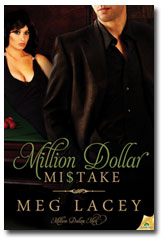 Taking care of business may cost him his heart.
In addition to overseeing the financial affairs of the wealthy Kristoff family, Nicholas Demetrious specializes in hauling its rambunctious members out of trouble. Especially his distant cousin, Raven Rutledge.
The tabloids love her bad-girl antics, sexy pout, and body made for sin. Nicholas would love to spank the bejesus out of her, but this time the situation is too serious to entertain such a fantasy. A lucrative business deal with the Exeters is in jeopardy, and Jackson Exeter Sr.'s ultimatum is clear: Remove this man-eater from my country house, or the deal is off.
Raven is in way over her head. She accepted the invitation to the Exeters' Adirondack house party as a refreshing change from her jet-setting lifestyle—until she learns the guest list includes his entire family. His ex-girlfriend. And the junior Exeter's intention to propose.
If ever she needed suave, sophisticated Nicholas's persuasive powers, it's now. Then he's there with a plan to get her out of this tangle: sweep her off her feet. But their pretend passion turns all too real. And what started out as a weekend of fun threatens to shatter into betrayal and heartbreak.
Warning: Contains a tabloid sweetheart who loves to be bad, a sexy hero with little patience for mind games, and a game of strip pool that will make you rethink your weekend plans.
October 2012
ISBN: 978-1-61921-170-4

---
The Fireman's Christmas
FULL-TIME DAD, FIREFIGHTER ... PART-TIME BABYSITTER?
Widowed firefighter Danny Santori needs a miracle. Or at least a full-time babysitter who can handle his four lively kids. With a son and daughter to raise, busy landscape designer Tessa Doherty could also use some divine intervention. All they have to do is take turns watching each other's children what could be simpler?
Doing double duty as a stand-in nanny is wreaking havoc with Tessa's life. And her irresistible attraction to the roguishly charming single dad is a complication the fiercely independent career woman doesn't want or need.
Danny isn't trying to stand in the way of Tessa's dreams and goals. But he's hoping she'll see that five plus three equals . . . one family!
November 2009
Harlequin Temptation
ISBN: 978-0373752850

"I read this tale in one sitting and enjoyed every moment of it. The Fireman's Christmas is a feel-good story that made me laugh. Don't hesitate to enjoy it too." ~ Shirley Lyons, the Romance Reader
"Lacy delivers a sweet and sexy story about love the second time around." ~ Pat Cooper, Romantic Times
eHarlequin | Amazon | Kindle | B&N | Nook
Read an excerpt
---
Million Dollar Stud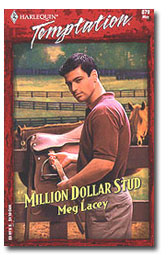 IT BEGAN AS A SIMPLE DARE...
Bored with his million-dollar lifestyle, Richard Darcy Kristof accepts a dare: live for one month with strangers and without his name or his fortune. He's up for the challenge. Calling himself Darcy, he gets a job managing a horse farm. But nothing has prepared him for the challenge of the boss's gorgeous daughter — Silver Braybourne.
AND BECAME MUCH, MUCH MORE
Silver's future is riding on one horse and its ability to win. She's not about to let anything stand in her way, least of all a new manager who's too arrogant, too sexy for his own good...and hers. If she gives in to the temptation of Darcy, she can again focus on her future. Too bad once isn't enough.
May 2002
Harlequin Temptation
ISBN: 0-373-25979-4

"... a high level of sexual tension ..." ~ Catherine Witmer, Romantic Times
---
A Noble Pursuit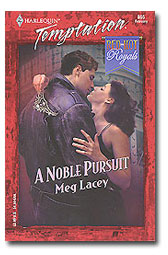 HE WAS HOT ON HER TRAIL...
Undercover cop Shay O'Malley has the toughest assignment of his career. He, a Yankee, has to bring down one of the most prestigious families in New Orleans. Worse yet, he's unknowingly slept with Juliette Fortier—Princess Juliette Fortier—who may or may not be into the "family business" up to her lovely neck. He'd rather think she's an innocent, but after their night together, he knows better....
Juliette just wants a fling—a one-night stand before she settles down, bound by her royal responsibilities. But Shay keeps turning up in the strangest places...and she's powerless to resist his charms. Being powerless doesn't sit well with a princess....
February 2002
Harlequin Temptation
ISBN: 0-373-25965-4

"Absorbing and crisply written, Meg Lacey's A NOBLE PURSUIT (4) is an artful blend of suspense and sensuality." ~ Romantic Times
---
Sexy as Sin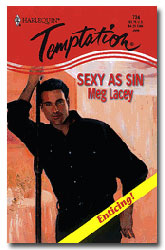 CHASTITY
Chastity Goodwin was conservative with a capital "C". And she was determined that her best friend's wedding would go off without a hitch. Then she met the hellishly stubborn best man...
SIN
Sin O'Connor was all black leather and denim and sexy swagger. But he surprised even himself when sweet Chastity the wedding planner made him think of hot kisses and rumpled sheets.
CHASTITY AND SIN
They had nothing in common, except an explosive, totally irresistible attraction.
June 1999
Harlequin Temptation
ISBN: 0-373-25834-8

"Talented new author Meg Lacey pens a fiery romance with topnotch tension and a lovely fairytale tone." ~ Romantic Times
"Fun, sexy, you'll laugh out loud." ~ Lori Foster, Harlequin, Silhouette, Berkley author
"...a sizzling romantic comedy." ~ Reon Carter, Cincinnati Enquirer
eHarlequin | Amazon | Kindle | B&N | Nook
Read an excerpt
---
Make Me Over
Wanted: Man, preferably breathing
Nell Phillips has man problems — how many guys want to date a five-foot-eight-inch cop who's a dead shot and can throw them across the room?
Sheriff Mac Cochrane has woman problems — mostly from his mother who wants him to get married.
The solution to both their problems is obvious — Mac will teach Nell how to be a sexy siren, and she'll help him find the perfect mate. Trouble is, when Mac sees the made-over Nell, all bets are off. First guy who looks at her sideways is going to get arrested......
October 1999
Harlequin Duets
ISBN: 0-373-44079-0

"fascinating characters and a new twist to a fan-favorite plot." ~ Shannon Short, Romantic Times
eHarlequin | Amazon | Kindle | B&N | Nook
---
Did You Say Baby?!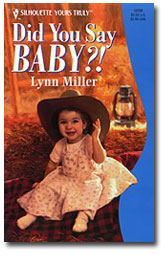 HE DIDN'T KNOW ANYTHING ABOUT BABIES
But now that pretty Rebecca Chandler had shown up at his ranch, complete with darlin' baby girl, J.D. McCoy was learning fast!
SHE DIDN'T KNOW ANYTHING ABOUT COWBOYS
But rugged J.D. sure did something to Rebecca's heart whenever he nestled baby Jessie in his well-muscled arms.
COULD THEY LEARN HOW TO BE A FAMILY?
Now that they were sharing a house, a little girl and a whole lot of pulse-pounding kisses, J.D. and Rebecca were about to discover just what it meant to be married with a baby. Only problem was convincing the reluctant cowboy to say "I do" for real!
Written as Lynn Miller
March 1999
Silhouette Yours Truly
ISBN: 0-373-52088-3

"A funny, tender story with lots of heart. Engaging characters and vivid descriptions really make this romance come alive." ~ Rendevous
"This is only Lynn's second book, but she knows her stuff, and you'll be looking forward to many more from her, I promise." ~ Leslie Wainger, Sr. Editor, Silhouette
---
Is There a Husband in the House?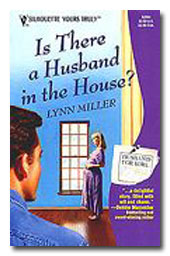 Dinah Lane is desperate. She needs a husband and she needs one fast! There's no other way for the unwed mother to keep her baby and her job as the first female executive in such a straight-laced, small-town bank. Telling everyone she's engaged, Dinah runs two ads: one for a carpenter to add a nursery onto her house ... the other for a husband.
Will Dennison lives for chaos and creativity. Passing through town and in need of extra cash, the sexy, outrageous, unemployed carpenter answers Dinah's ad. All he wants is to build the nursery, get paid, and get out. Then men start to arrive. Will doesn't mean to send potential husbands away -- he thinks they're after his job. Before he knows it, he's a husband in more than name-only ...
And then life really gets complicated!
Written as Lynn Miller
October 1997
Silhouette
Yours Truly
A "Women to Watch"
ISBN: 0-373-52054-9

"Offbeat and heartwarming, this story delights from the start...A romantic gem that goes straight to the heart." ~ Rendezvous
---
Praise for Lynn Miller!
"Is There A Husband In The House? is a delightful story, filled with wit and charm." ~ Debbie Macomber
"Is There A Husband In The House? is a very humorous romance that showcases the Woman to Watch series...This novel proves that the Yours Truly line selected wisely when they decided to promote Lynn Miller, a gifted new storyteller, as one of their special authors." ~ Harriet Klausner
"Is There A Husband In The House? is delightful! A warm, winning comedy with a heroine to root for and one of the dreamiest heroes to come down the pike. Left me smiling for a long time after reading it. A very impressive debut. Lynn Miller is definitely a Woman to Watch." ~ Elizabeth Beverly, Silhouette, Harper Monogram Author
"With her ability to spin a story with wit and humor, Lynn Miller's not only a "Woman to Watch", she's one to enjoy reading, which is even better." ~ Beth Henderson, Silhouette/Harlequin Author
Lynn Miller is a WOMAN TO WATCH!
"I chose Lynn for a "Woman to Watch" because she has a unique voice. Yours Truly is a light, fun line and Lynn captures that. Her book is quintessentially what the line is." ~ Leslie Wainger, Senior Editor, Silhouette Books