Rachel's War
by Barbara Colley
Harlequin Reader's Choice ~ January 2007
ISBN 0-373-19856-6
Three generations of women, bound by secrets...

A destiny of passion, heartbreak, and courage...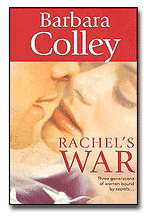 Widowed, pregnant, and alone, twenty-year-old Rachel marries a man she barely knows. Jonathan is kind, wealthy, and generous, and for Rachel's hungry heart, love is most wanted. Yet her destiny is shaped by devastating troubles that resonate in her own life and within the lives of her daughter and granddaughter.
Set against the backdrop of fifty years of American wars, this is the story of Rachel, Liz, and Crystal, the men they love, and the private battles that shape the women's lives. Through it all, they come to realize that nothing can break the bonds of love and family.

Order a copy:
Amazon | B&N | Local Independent
---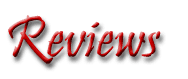 Armchair Interviews says: "Rachel's War truly is a beautiful novel."

"This is an epic novel following three generations of women through their similar experiences with love, war, and family. Colley spends over forty years, and four hundred pages, proving that deep-rooted actions and emotions, such as love, stupidity, pride, and heartache are not bound by generational gaps.

"...a compelling tale of love and war. This special combination of character-driven story telling, suggestive notions of the impact of time and place on our lives, and compelling thoughts on life in general make this book stand out."
~Read the entire review by Marcella Courneya at Armchair Interviews

"RACHEL'S WAR by Barbara Colley spans the lives of three women and three wars. While husbands battle overseas, Rachel, her daughter Liz, and her grandaughter Crystal wage their own private wars on the homefront. Concretely, their battles include in-laws, alcoholism, death and illness. Abstractly, they battle insecurity, authority, guilt and remorse. In short, the characters are relatably human and open to the interpretations the reader's own experience provides. A helpful strategy Colley incorporated into the novel is the use of letters as a sort of journal. As the couples write back and forth during their absences, the reader is offered an intimate view of the thoughts and emotions of each person that mere dialog does not afford.

"Barbara Colley's novels typically take place in her hometown of New Orleans, and RACHEL'S WAR is no exception. Though the characters change locales frequently, Rachel begins her life in rural Louisiana and her family members find themselves drawn to the state for various reasons. She writes a cozy mystery series that carries a bit of romance, as Rachel's War eludes to its own mysteries. Her work encompasses multiple genres and appeals to a wide range of readers ...Colley writes true literature that has a backbone and a message for the reader."
~Sabrina Williams, Front Street Reviews

"An interesting historical tale that spans three generation of females ... Readers will enjoy this look at family members of our servicemen coping with the life of a military wife." ~Harriet Klausner




"Colley spins a sprawling yarn about three generations of women married to soldiers.

"After a Depression-era childhood, Rachel Thompson marries Tim Davis to escape her abusive father and never looks back—even when Tim is called to serve in World War II and she's left with his family. When Tim returns home and is killed in an accident, Rachel goes to work for wealthy businessman Jon Williams. Learning that she's pregnant doesn't faze Jon; he insists on marrying Rachel and raises her daughter Liz as as a sister to his son, J.J.

"It's a happy marriage, despite its beginnings, lasting well into their middle age—which is when the true test comes: A woman comes forward, accusing Jon of wartime espionage. Has their life together been based on a lie?"
~RT BookClub, Catherine Witmer

More Reviews Coming Soon!
---
---